STOP #5
CULP'S HILL SIGNAL STATION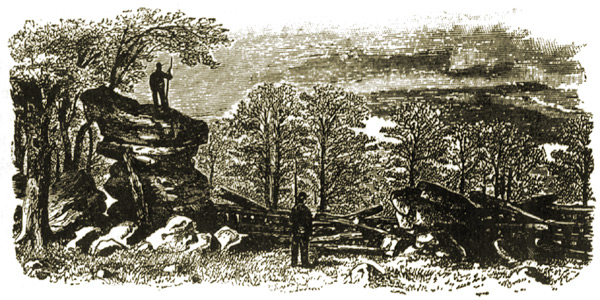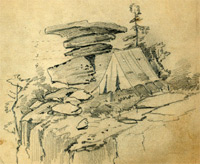 Culp's Hill
This area is the location of the Twelfth Corps signal station as documented on the Bachelder Maps. [Map of the Battle of Gettysburg, Office of the Chief of Engineers, U.S. Army, Boston, John H. Bachelder, 1876, Plate 3] Although Maj. Gen. Henry W. Slocum was the Commanding General of the Twelfth Corps at the time of the battle, he had been appointed Right Wing Commander and had in turn appointed Brig. Gen. Alpheus S. Williams as the temporary commander of the corps. On 2 July, Slocum still considered himself Wing Commander, and brought Williams to Meade's Council of War that evening as the Corps Commander. The signal station located at this site supported Williams' Twelfth Corps headquarters and the station on Power's Hill supported Slocum as the Wing Commander. [O.R., XXVII, Part I, p. 760.] The following message shows intelligence received by signal observation being provided to the Twelfth Corps. This message may have been sent by flag signal or by courier.

Headquarters Army of the Potomac
July 2, 1863 - 5.30 p.m.
Commanding Officer Twelfth Corps:
The signal officer reports that a heavy column of infantry is moving round to the right, and in front of Slocum's corps. By command of Major-General Meade.
S. Williams
Assistant Adjutant-General
[O.R., XXVII. Part III, p. 489]
Now return to your automobile and drive to STOP 6
Continue down the hill and take SLOCUM AVENUE until you reach BALTIMORE PIKE. Turn RIGHT and proceed to STEINWEHR AVENUE. Turn left and return to the CYCLORAMA CENTER parking lot. Looking just south of the CYCLORAMA CENTER, you can see the equestrian statue of MAJ. GEN. MEADE. Walk to a point halfway between the statue and the small white house which is MEADE'S HEADQUARTERS. This is the approximate location of the signal station which supported Meade
---